How back-drivable is the stepper motor?
How back-drivable is the stepper motor?
It help to understand what is a stepper motor. A stepper motor is a simple device in construction. It is has fixed, non moving, coils in the stationary part of the motor. These are called stator windings. The rotating part is called the rotor. The rotor has a series of magnetic poles. When you energize the stator coils, the magnets rotate to align with the coils. Then it stops. When the polarity of the current through the coils is changed, the rotor will again turn to align the magnetic poles of the rotor to the magnetic poles of the stator. This is called a step. When a controller performs this alternating of the current through the coils in a fast enough manner, the rotor appears to rotate continuously. The mass inertia of the rotor tends to smooth out each 'step' at higher speeds. AT slow enough speeds you can see and feel each step.

When a stepper is 'back driven' is means the rotor is spun by the connected load. The magnets rotating inside the coils create an alternating current generator. What happens to the voltage and current produced is totally dependent on the circuit that is connected to the motor. For an open circuit, the back EMF generated may be very high compared to the rated motor voltage. The motor's back EMF specs will give guidance. If connected to a driver circuit, diodes in the output transistors may limit the voltage, or actual clamp diodes may be used. If clamp diodes exist then when back EMF generates enough voltage to induce current through the diodes, there will be a resultant resisting torque in the motor. A slowing, or holding the motor will occur.

Without any type of clamping diodes what will usually happen is the back EMF voltage will rise high enough to breakdown the output transistors. A bad thing.

If the power generated by back-driving is dissipated in a controlled manner its called regenerative braking and can be used to charge batteries etc. A good thing.

So after a long ramble - a stepper motor can be back driven, usually will not harm the motor - but the drive circuit needs protection.
Cloudray Stepper Motor Series has set the standard for quality, reliability, and durability in stepping motors. The precision of our Torque Power motors is matched only by the dependability of their performance. All Torque Power motors are bi-directional and totally enclosed with permanently lubricated ball bearings for long-lasting, smooth operation.
Cloudray stepper motor series are widely used in medical instruments, robotics, 3D printers, extruders, laser cutters, engraving machine, textile equipment, packaging machinery, CNC machines, etc.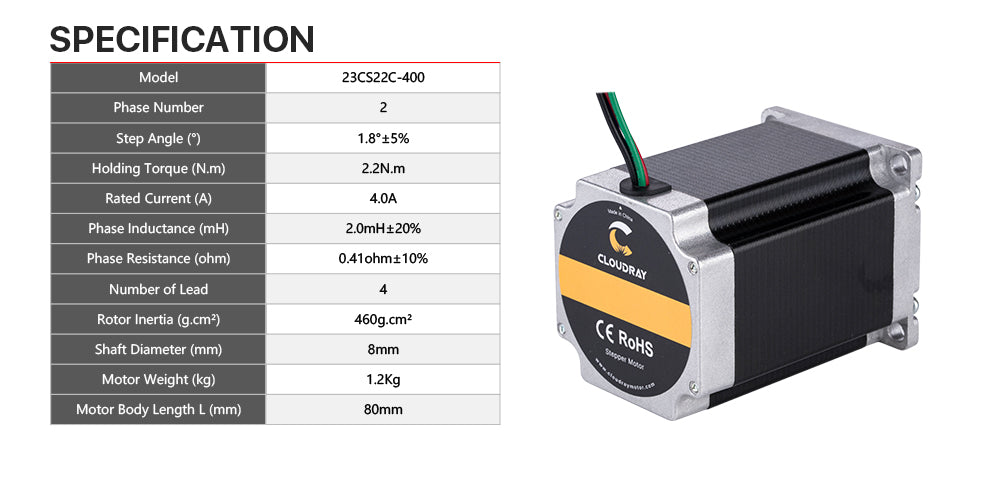 High Torque, High Precision and Long life is Cloudray's core advantages
Low vibration,Low heating, No loss of stepFast Response,Better Acceleration Performance
Thanks to a robust design they can be selected for the harshest environments. Precise, open-loop, speed and position control can be achieved with the application of full step, half step, or microstepping electronics.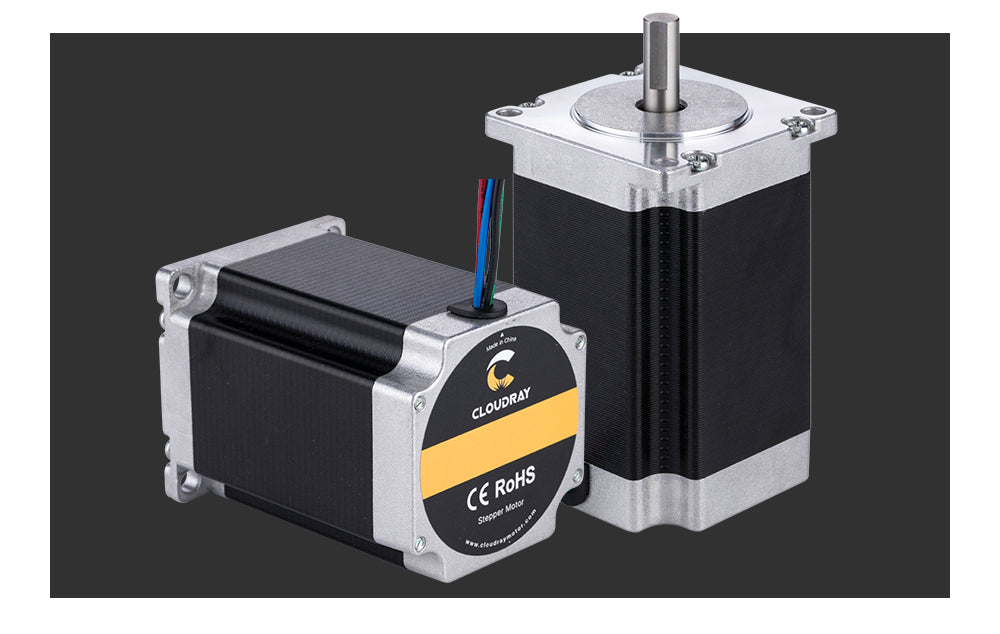 Higher Resolution,Avoidance of Resonance Regions
Stepping angle is adjustable( rang in 18°±5%), 0.9 °stepper motor's stepping angle is smaller, fineness is higher and positioning is more accurate.Avoiding vibration,runs more smoothly and gets lower noise.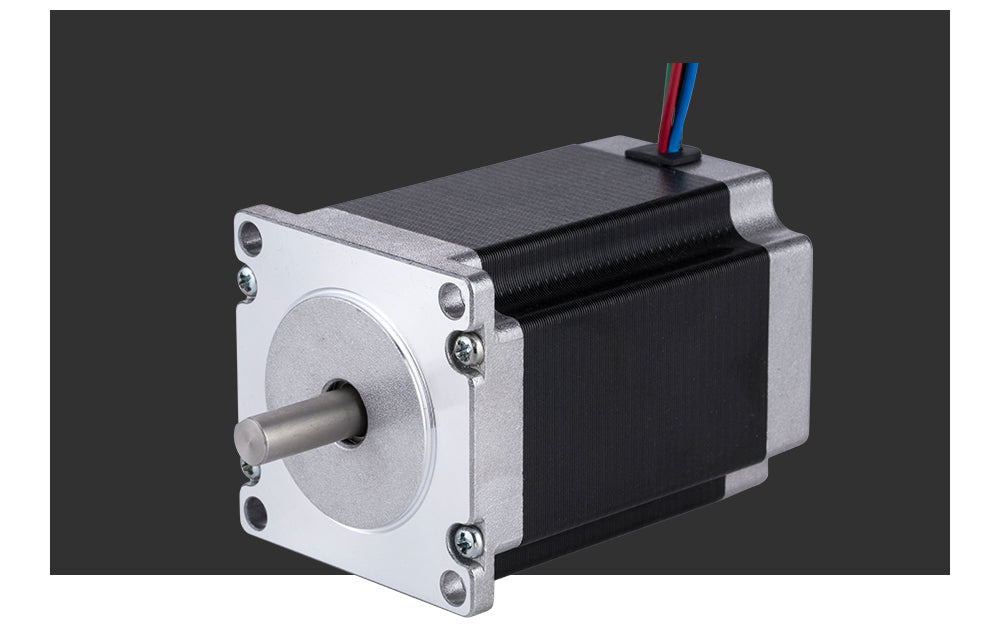 Sturdy structure, extremely long life
High quality materials including bearings and shaft made in Japan
Robust assembly, high speed range, and exceptional performance in even the harshest environments make Cloudray Stepper Motors the perfect solution for demanding positioning applications.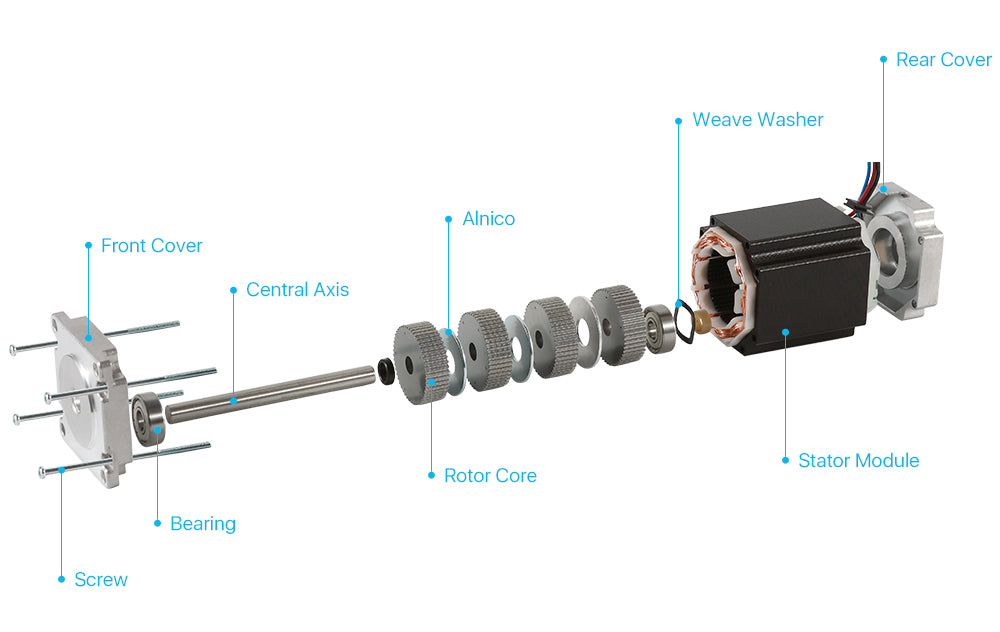 Short length and light weight allow them to be used in highly integrated systems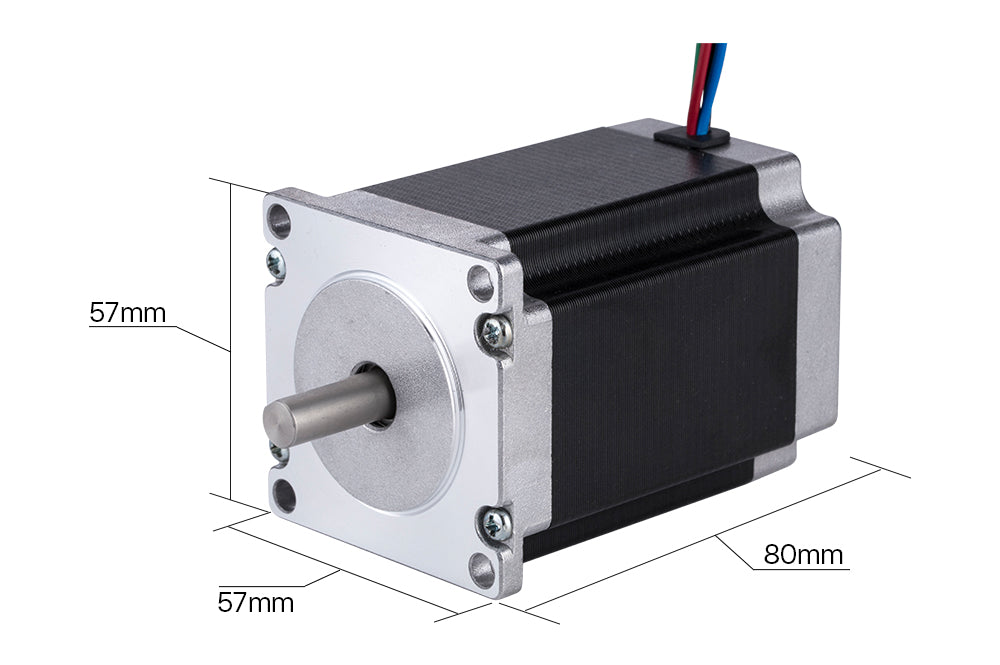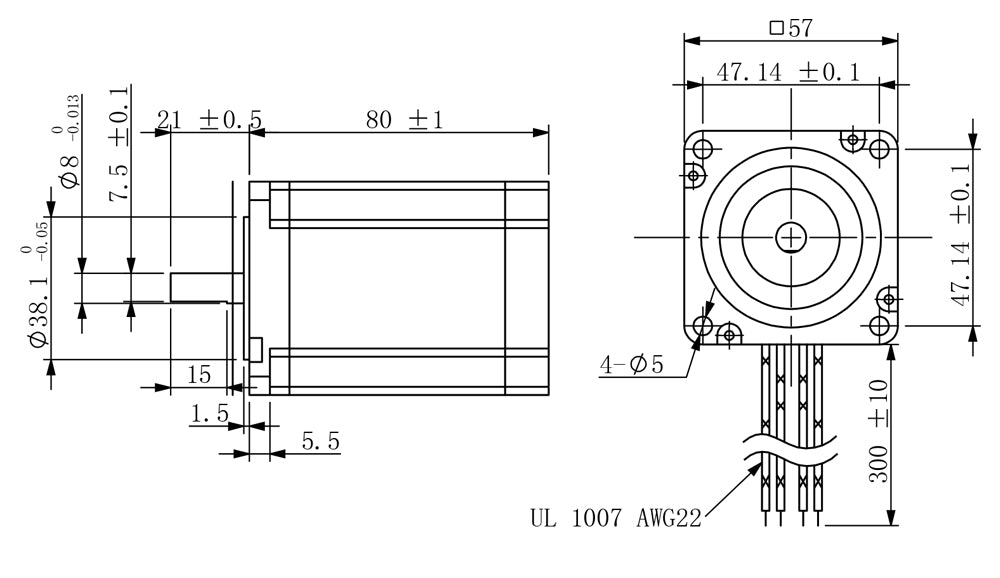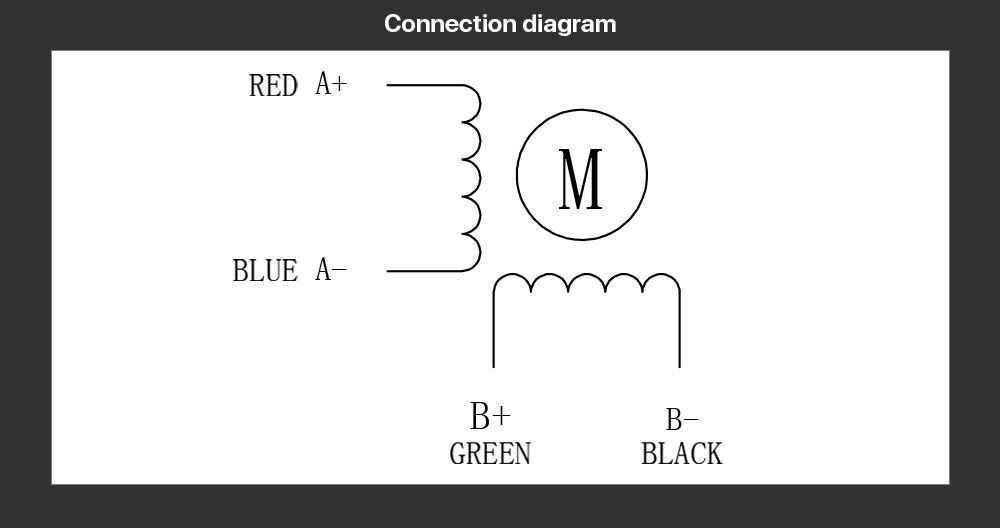 Cloudray stepper motor factory video
Stepper motor application
Cloudray stepper motor and Stepping Motor Driver are widely used in engraving machine, cutting plotter, textile machine, 3D printer, medical devices,stage lighting equipment, robot, CNC machine, music fountain and other industrial automatic equipment.



Sample Block Quote
Praesent vestibulum congue tellus at fringilla. Curabitur vitae semper sem, eu convallis est. Cras felis nunc commodo loremous convallis vitae interdum non nisl. Maecenas ac est sit amet augue pharetra convallis nec danos.
Sample Paragraph Text
Praesent vestibulum congue tellus at fringilla. Curabitur vitae semper sem, eu convallis est. Cras felis nunc commodo eu convallis vitae interdum non nisl. Maecenas ac est sit amet augue pharetra convallis nec danos dui.
Cras suscipit quam et turpis eleifend vitae malesuada magna congue. Damus id ullamcorper neque. Sed vitae mi a mi pretium aliquet ac sed elitos. Pellentesque nulla eros accumsan quis justo at tincidunt lobortis denimes loremous. Suspendisse vestibulum lectus in lectus volutpat, ut dapibus purus pulvinar. Vestibulum sit amet auctor ipsum.